Out of Stock
One-tier Cathedral Bridal Veils With Lace Applique Edge
#20359
Product Reviews
Write a review
Romerosteph85031
2020-07-14 22:27:03
Gorgeous! I loooved it so much brought my whole dress together. The beads didn't fall out there's wasn't anything wrong with it. The tail was my favorite very beautiful design. My sisters are getting married soon and they're fighting for my veil!
The upmost beautiful veil thank you so much
simone9313
2017-09-15 20:07:18
Super gorgeous, all I hoped for.Arrived quickly. They rushed it for my big day.
symantha00s
2017-01-10 16:11:39
Beautiful,first time ordering and its a pretty veil for such a steal
oreen747
2016-04-16 18:21:10
Excellent quality, prompt delivery and very helpful information and guidance through my chat conversation on the web site. This veil is for my daughters's wedding at the end of 2016
My husband and I tediously put all the extra bling on it and it looks STUNNING. It comes with a neat comb attached. I might fix a short plain shy veil to the comb that will flip over the face, as can be done. The size of this veil is 300M long by 300M 'wide' which is more than most veils, so it looks full, like a tear drop at the back, rather than a long narrow oval shape.
I highly recommend this company as the quality was what I was expecting.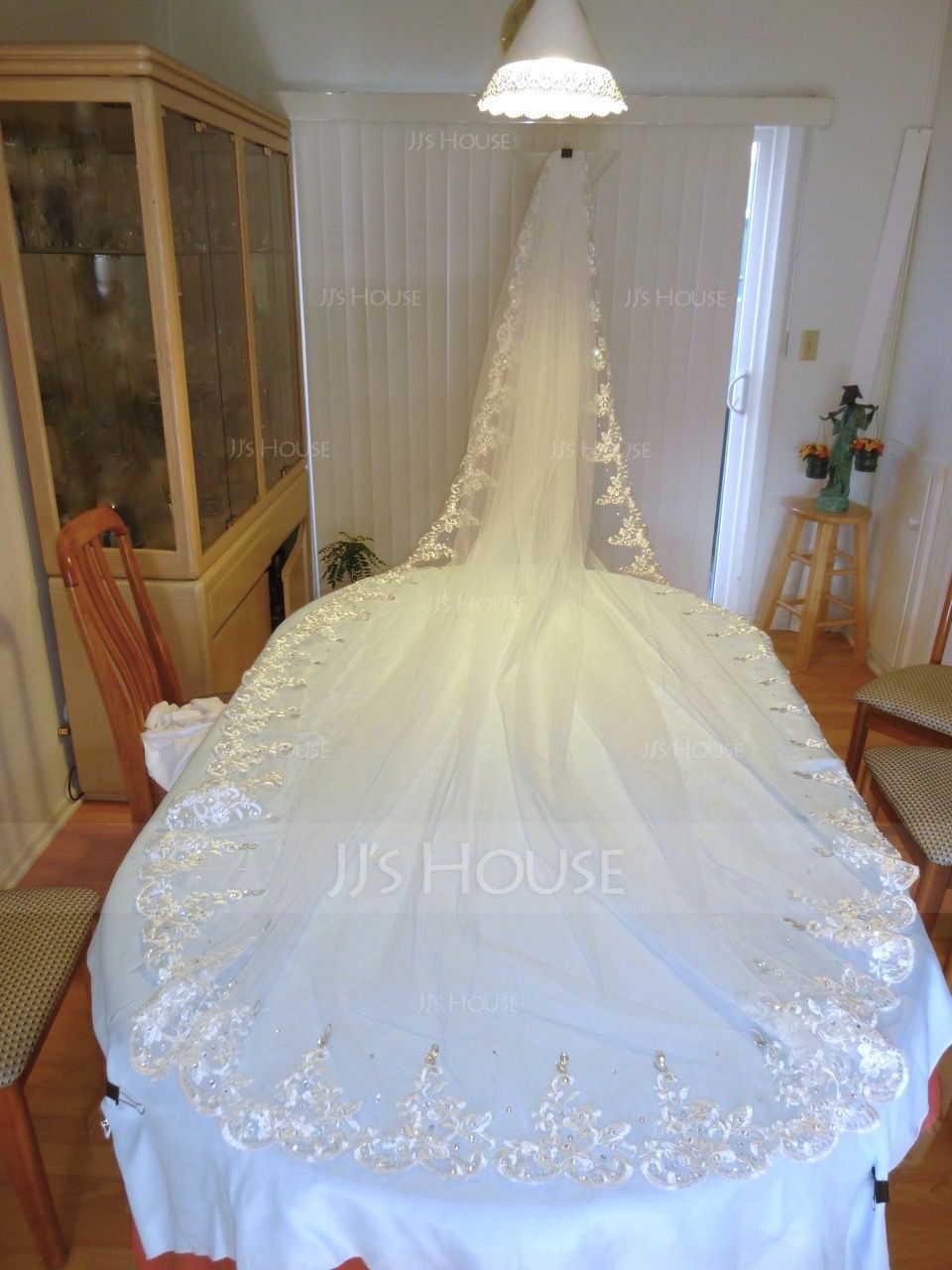 jisele_barros
2016-01-07 15:42:10
The veil is stunning and shipped super fast!
JJ house is amazing and totally reliable
Londie
2015-11-08 18:14:49
I just received this veil and I couldn't be happier! The veil is more beautiful in person and the small but very visible rhinestones go well with the rhinestones in my wedding dress. The veil arrived much sooner than I expected. I priced a similar veil from a wedding store and they wanted $350.00! Thank you JJ'S House for offering so much at an affordable price. I will be ordering all of my wedding accessories from JJ'S House.
ZAYRA
2015-03-10 07:25:37
El color combina perfecto con mi vstido.. El adorno se ve super elegante.... Estoy muy feliz con mi compra. Recomiendo ampliamente todos sus productos
shelena17
2014-08-27 15:31:06
shelena17
2014-08-20 16:34:49
É lindo, vale muito a pena comprar e o melhor não fui taxada