Customer Reviews
Empire Sweetheart Court Train Tulle Wedding Dress With Appliques Lace
#002017117
List Price: US$ 274.50 Save US$ 84.51
By maliakoons10
2016-06-17 16:21:32
This dress was so beautiful. I ordered mine in blushing pink and it seemed to pinky when I took it out of the box, but once I tried it on it looked great with my pale skin. I would recommend tryin g on dresses at a shop then remember what size looks good, because it is very to to shop sizes.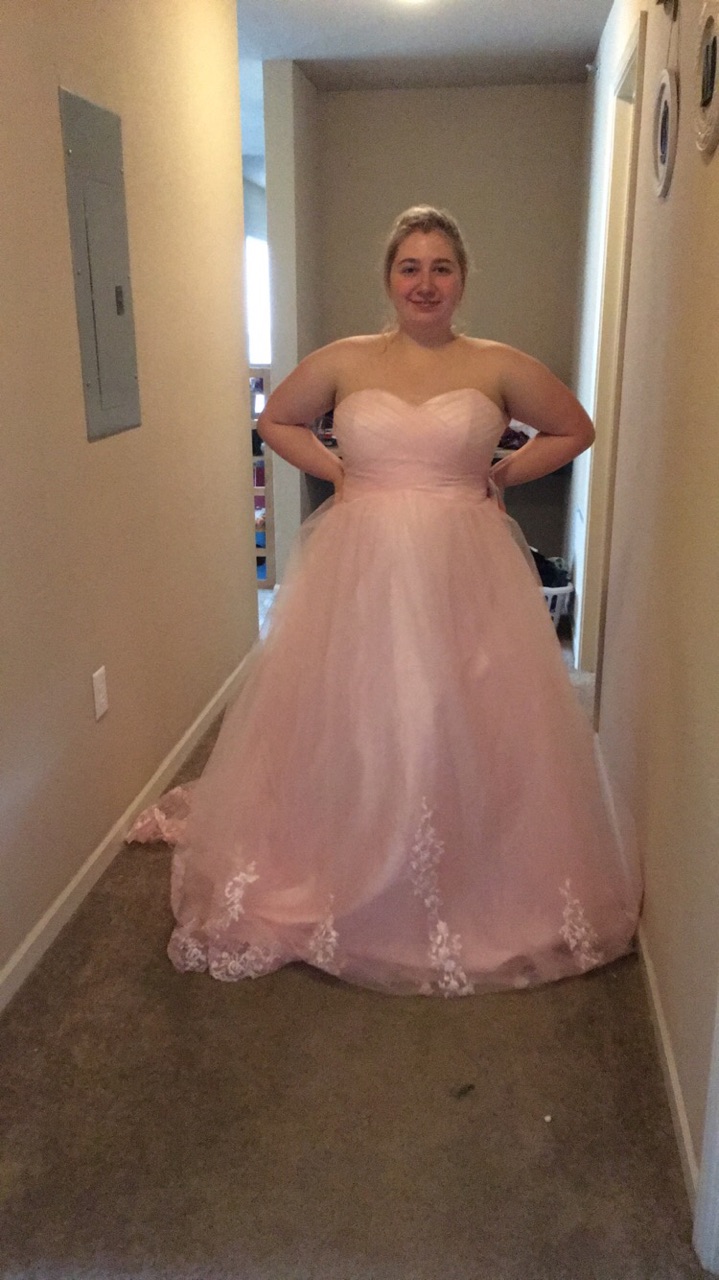 By stella74
2016-01-26 14:12:33
By btthomxk1
2015-10-27 02:53:15
I got this dress for my big day. The dress turned out to be absolutely beautiful. I was 7 months pregnant on my wedding day and I ordered the waist really big and had to have it taken in. If your pregnant, definately get the custom order so the inside of the dress isnt too tight.

By Mariana Rozendo
2013-06-01 13:03:17
FEATURED REVIEW
By Mariana Rozendo
2013-06-01 13:01:20
FEATURED REVIEW
I wanna thank you guys for this beautiful and perfect dress! It came today and I'm in love! Very good quality dress! I really recomend this dress and all the work of this time! Thank's!

By gunvor guggisberg
2014-01-23 00:38:43
Dear JJ's House-Team

Thank you so much! It fits perfect!!!

Great! Looking forward to our wedding!

Love, Gunvor
www.gunvor.com
Reply by JJsHouse 2014-01-24 00:51:28
Hi gunvor guggisberg, I am glad to hear you love the dress so much! You are definitely going to look awesome at your wedding. JJ's House is the best source to turn your event into something truly special.
By nanigomezsalazar
2013-09-25 09:45:11
FEATURED REVIEW
i loved my dress !!!!!!! thanks jjs house , the shipping is really fast , the product are excellet........

thanksssssssss!!

Ana from Colombia!!!
By Jean
2013-06-16 00:31:52
FEATURED REVIEW
the dress reached to my home. so quickly. the lace at the bottom of the dress is so beautiful. the dress is fitted. good quality. i am satisfied with it. we are planning to buy our bridesmaids dresses on your website. thanks for your nice dress
By Bunny
2013-06-15 02:47:48
FEATURED REVIEW
Hello, the carrier given my package to me and I opened it. I really pleased to see my dress and shoes. Great dress, great work. I believe you can make my 6 bridesmaid dresses very well,too. Thank you!
By Mariana Rozendo
2013-06-12 06:49:31
FEATURED REVIEW
Noivinhas, comprei este vestido e é maravilhoso! Igual ao da foto, qualidade ótima, surpreendente pela avaliação custo x benefício. Vale muito a pena! Quem desejar ver fotos dele, me envie um email que terei o maior prazer em ajudar (sei o quanto ver uma foto real do vestido ajuda na hora de tomar nossa decisão). Meu email é mariana_rozendo@hotmail.com