Ball-Gown V-neck Tea-Length Tulle Wedding Dress With Sash Beading Appliques Lace
#14739
Product Reviews
Write a review
Daria Keegan Winker
2018-08-28 07:23:41
Got this for my daughter. Came quickly and was well made and fits well. Only needs a slight alteration in the shoulders.
ausblue29
2018-08-16 16:41:41
This dress was gorgeous! Just what I hoped for, very well made and the perfect fit! I'll definitly tell others where I bought my wedding dress from.

briggs_s18
2018-06-28 02:59:53
So beautiful, all the details are amazing and the colour of the sash matches my theme perfect.
I can't wait to wear it on my wedding day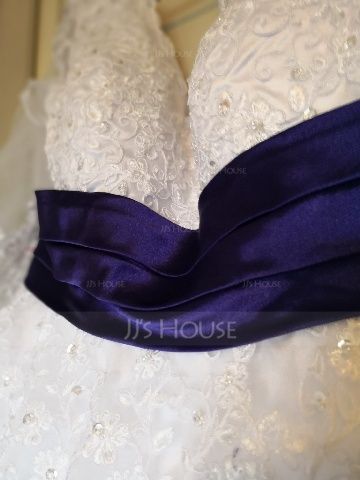 Gisèle
2018-06-06 06:20:12
Ordered the dress in custom size EU 34 and it fitted perfect. The dress is beyond expectations, the quality is outstanding and the service is perfect.
I ordered shoes and 2 dresses for our bridesmaids and shoes for them as well. Those dresses and the shoes were also perfect. I ordered the two dresses with a different colour belt and were not charged extra for it!
Offcourse I too had doubts to order a wedding dress from 'far away' and online without the posibility to try it on first, but if you measure yourself as the site suggests you do, it's safe to order, as everything is correct.
Service was perfect, every mail I sent was answered asap with a clear answer!
The only thing I miss at your store are suits for men! :-P

We had all our animals join the wedding, forst pictures of the girls with the dogs and our horse and the dogs entered the room where my husband to be was waiting playing his electric guitar (Pahcable Canon in D) and the youngest dog carried in our rings on a little heart shaped pillow on her back... <3

I felt like a princess in a WD movie!!

michelleerik
2018-05-02 09:08:42
The bride loves the dress but it does not fit. Plans to reorder and pay for custom fit. Expensive to return.
amici.di.lorenza
2018-04-13 07:49:18
Will place pictures later, but the dress just arrived and it;s beyond expectations. I ordered a regular size 34 EU and it fits perfectly.
I ordered two dresses for the childeren, they also are superb!
dorisalice54
2018-02-27 12:12:04
Bought this dress and love it
browneyedgirl_x
2017-08-29 13:53:45
From the moment I saw this dress it was the only one in my head so I ordered it - I'm not skinny and sadly don't look like the model
iveson.sophie
2017-08-01 00:41:19
Pictures of my stunning dress

doug_deecresswell
2017-07-28 20:09:58
I ordered this dress in Champagne with Champagne Sash and was so happy when I opened the well boxed dress until I tried it on... Colour Champagne is Beautiful and great quality dress but the fitting was terrible, gave me nightmares as I had limited time to get a Tailor to repair and most I went to didn't have time or didn't want to touch it... The shoulders were so large that they fell off my shoulders down to my elbows both sides, it was too long in the bodice, I was so disappointed, I contacted JJsHouse and they sent me a picture of the measurements I provided which were perfect but the shoulder width they did not provide and that was my issue, I didn't have time to be arguing with them over this so accepted a $30.00 refund when it ended up costing $80.00 to fix it but even then it wasn't right because it had to be taken up in the bodice so much that then it pulled the dress too high and the Sash sat directly under my bust and was them loose so it was loose and i couldn't bend over without everyone seeing my bra which I had to wear so I was worried about this the whole day... I got many compliments on the beautiful Colour but also comments on the looseness because of the internal bones being pulled up so high that they made it gape.. I loved the Dress but was so disappointed when it was so big across the shoulders and after repairs then made me look larger than I am because the full skirt came out directly under the Sash which was under my bust line making me look larger in size... If I were to advise anyone who is thinking about ordering this dress I would say that keep inmind that being a V neck with a V back if it isn't custom fit right as in my case then the Bodice will be way too loose and fall off your shoulders, if you get it repaired then the Bodice will be pulled up so high that you will look like your waist is higher than it is which can make anyone around 5'2" like myself look fat.. My other suggestion is to cut the stiff tulle attached to the petticoat off because that makes the dress sit closer to ones body, it is easy to unpick... Lovely Dress, Loved it BUT shame about the Fit!