Ball-Gown Sweetheart Floor-Length Tulle Quinceanera Dress With Ruffle Beading Appliques Lace Sequins
#4679
Product Reviews
Write a review
Jaime Carlson
2019-04-18 04:45:34
I absolutely love this dress! It fits and flows perfectly. Thank you jj's house!
kaitbkins
2018-03-15 12:21:54
I ordered this beautiful champagne ballgown with a champagne shawl and I couldn't be more pleased with my purchase. It is absolutely magnificent and it fits nicely. Fresh out of the box, 6 days early! I will definitely be recommending jjshouse.com to my friends and I will be ordering again for sure! I highly recommend getting your dress custom sized (which is what I did). I believe you'll get the best results because every body is beautiful in its own way! I will update on how prom goes and show the dress in action haha. Thank you!

mwells87
2017-07-20 13:15:51
Dress came today! Weeks faster than anticipated. Ordered a custom size and asked if they could add a little extra fabric to make an additional ribbon. They did!! Put the dress on, I was in tears. It was everything I expected and then some. I got those chills that you see the brides on those "say yes to the dress" shows. I ordered this in ivory and it's amazing quality. Will upload photos.!!! Thank you JJs House! You helped ease some of the stress of all this prewedding stuff!!!
mona.eltoft96
2017-05-19 08:00:33
Very nice dress! ☺☺☺☺

Shannon
2017-03-27 20:42:02
Love my dress! Ordered it custom sized, it came faster than expected and fits perfectly! Will definitely be ordering from JJ's house again!

michelle
2017-01-25 09:23:59
This dress is BEAUTIFUL!!! I was so surprised by how quickly this dress was made and shipped. I thought maybe it was not going to be the "custom size" I had ordered. I was wrong. This dress came EXACTLY the way I ordered it and is worth every single penny! My event is still a few months away so I don't have a picture of me in it - YET. :)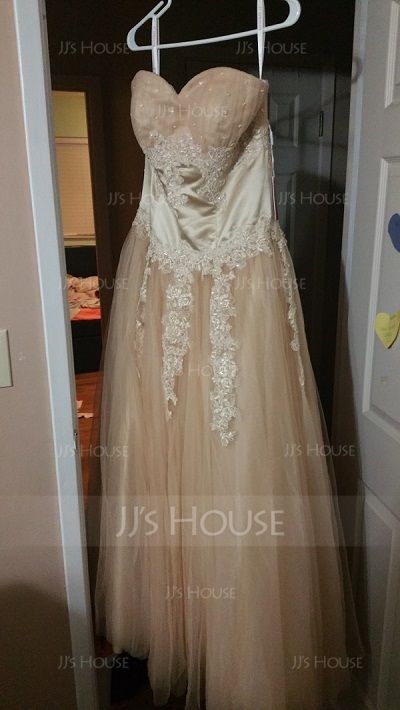 hayoo177
2016-07-31 00:13:48
Thank you so much jjs house..I ordered this dress and it is amazing and fabelous,also reach me in good time ☺
Nancy R
2016-04-24 20:57:40
This was my first but definitely not last purchase through JJs House and I cannot begin to rave about how much I love the dresses they produce. I bought my niece's Sweet 16 gown and my dress for the same celebration. The dresses were custom fit using measurements. I cannot being to tell you how beautiful the workmanship and quality are. We received both dresses in under 2 months. I was nervous to order something like this online but a friend suggested we look at her wedding gown she ordered from here. When I received the dresses I was beyond pleased and recommend every one to check JJsHouse.com for any semi formal or formal event you can think of. Thank you for making my niece's special day with such a beautiful gown. And mine too. I received so many compliments.

nietogladys
2016-03-29 19:30:30
excelente el vestido de muy bueno el corte y el color perfecto todo muchas gracias
Debe Berry
2016-02-16 21:51:08
The ball gown was a perfect fit and beautiful for her sweet 16 celebration.