Ball-Gown Sweetheart Chapel Train Organza Wedding Dress With Ruffle Beading Appliques Lace Sequins
#14703
Product Reviews
Write a review
Soraia Cadija Robê
2019-09-13 18:33:00
The dress is beautiful and the quality is high. It look like the picture. I'm so happy and recommend.
Virginie Saniez Bientôt Mouchet
2019-05-17 16:01:07
Voilà ce qu'elle donnait sûr moi, je suis ravie elle était splendide et parfaitement ajustée, les finitions étaient parfaites !!!!

Virginie Saniez Bientôt Mouchet
2019-03-14 08:51:11
Je viens de recevoir ma robe commandée le 7 février, réalisée sur mesures et elle est absolument MAGNIFIQUE !!!!! Je suis trop heureuse
Kelly Jane
2019-03-06 00:13:54
Absolutely love this dress and was very sceptical about ordering online but now my worries are all gone I had this custom made as I'm only 4ft 11 and all dresses are modelled on 5ft8 women the quality is great I cant wait for my big day now so I can look great and such a great price I would recommend this site to everyone I know who getting married fab work jjs house my anxiety levels are now back to a level of normality thank you so much...
jsmith.lung
2018-06-23 19:43:28
I love my dress and it came in a timely manner! It's a perfect fit!

CECILIA
2018-05-30 07:37:06
Ashley Tonks
2017-11-02 19:32:21
I'v been try for a year to find a dress that I love not only to look at but on aswel, with only 2 and a bit months left I bit the bullet and tried online with only heading back stories about online dresses I was scared and didn't no what to think, my dress arrived today not only is just beautiful and fits like a glove i love it on aswel, I can say I will recommend this place to any one the dress is more the perfect and looks so much better in person
Josefine
2016-04-26 00:30:03
I got the dress in time and it looks exactly like the pictures. The downside was that I ordered custom size and it was bigger than what I'd specified so I had to go and get it sewed in.
Päivi
2016-03-06 22:09:08
Puku toimi!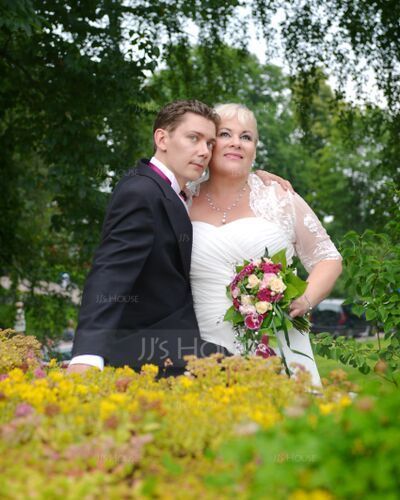 crystalsanders91
2016-02-23 15:11:37
Just received my dress today. Its just like it is in the picture I love it they did the right measurements. I would recommend it anybody