Women's Satin Stiletto Heel Closed Toe Pumps With Buckle
#48020
Wedding Shoes
+

* Expedited Shipping: 2-6 days
* Standard Shipping: 3-8 days
* Expedited Shipping: 2-6 days
* Standard Shipping: 3-8 days
* Super Saver Shipping: 10-30 days
Processing Time:

7-8

days
+
Delivery Time: 2-6 days * Expedited Shipping: 2-6 days
* Standard Shipping: 3-8 days * Expedited Shipping: 2-6 days
* Standard Shipping: 3-8 days
* Super Saver Shipping: 10-30 days
Worry-Free Returns are available for standard sizes within 7 days. Custom sizes are final sale.
See Details
Description
Founded in 2007, JJ's House is the global leading online retailer for wedding gowns, special event dresses, wedding party dresses, fashion dresses and accessories. Customers can browse the vast online selection and choose their favorite dresses with great satisfaction.
Product Code
#48020
Gender
Women's
Shoes Style
Closed Toe, Pumps
Color
Black, Blue, Gold, Ivory, Pink, Purple, Red, Silver, White, Champagne
Size
34, 35, 36, 37, 38, 39, 40, 41, 42
Heel Type
Stiletto Heel
Actual Heel Height
2.95 inch (7.5cm)
Actual Platform Height
0.4 inch (1cm)
Upper Materials
Satin
Lining Materials
Leather
Outsole Materials
Rubber
Embellishment
Buckle
Season
Fall, Spring, Summer, Winter
Best Selling Items
RECOMMENDATIONS
Product Reviews
Write a review
cerv_q05
2017-02-06 20:53:30
Elisabeth
2016-09-14 12:52:58
ana.dragomirescu
2015-01-12 17:42:59
Awesome shoes! I usually wear a size 38 but when I measured my foot, I was right at the max size for 38 so I ordered 39 and they fit great - a little loose around heel but no biggie as the straps keep your feet from slipping out of the shoe - which will be handy for walking around all day and dancing. The heels are a good practical height and are really comfortable. I paid for the 3-6 day delivery and it came within that time. :)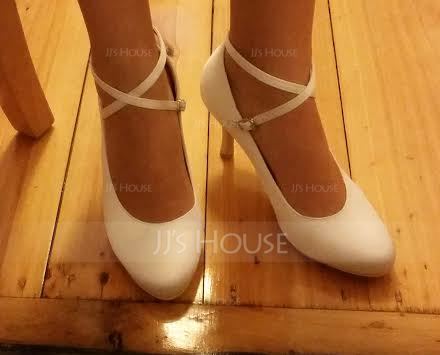 Sarah
2014-08-28 20:09:17
I LOVE these shoes! They are so comfortable! And the buckle is awesome! I didn't realise it from the pics, but this is the type of buckle where it's already buckled on the strap and there's a hook to hook the buckle into place, which makes putting on the shoes so much easier. Can't believe how comfortable these heels are!

floredemours
2018-11-09 03:38:16
Meets expectations, and the color perfectly matches my dress, I am delighted!
psebbelindahl
2018-09-30 02:40:58
lu.frida.wang
2017-11-27 17:49:26
The shoes are comfortable. I am satisfied with this purchase!
Elen.bg
2017-05-17 07:23:30
Oh they are so pretty. Simple but stunning! Fit perfectly
Simone
2017-04-20 11:16:46
a really great shoes, even got free deposits to
I have good experience in JJ-House online shopping. The shoes is good and comfortable. The delivery also ontime. Keep a good work JJ-House! :)