Customer Reviews
Women's Leatherette Heels Sandals Latin Ballroom Dance Shoes
#053007246
List Price: US$ 23.04 Save US$ 9.05
By Rhonda (mother of the groom)
2016-07-01 20:12:43
I bought these shoes to practice the mother - son dance for my son's wedding. They are perfect! I thought the buckles were defective at first because this is my first pair of ballroom dance shoes, but my instructor showed me how they work and assured me they are supposed to be this way. Soooo since I love them so much, I'm ordering a more expensive pair from JJ's House for the actual wedding. I couldn't find ballroom shoes for me in OKC and really appreciated the expedited shipping service. Great shoes for the price. Can't wait to get my next pair!

By emmermit
2016-04-09 09:50:14
Comfy and fit really well. A little cheap looking up close, but on the dance floor you don't really notice. They have these little glued on gold stars in the sparkly sections that I could have done without, but for the price they make great practice shoes.

By amymarie09
2015-11-12 11:32:30
By danagrin
2015-08-25 11:45:56
Excellentes chaussures de danse! Très belles et très confortables! J'ai commandé la pointure 39 , (habituellement je porte le 38) et c'est parfait. Merci!
Прекрасные танцевальные туфли! Очень красивые и удобные! Прекрасно сидят на ноге. Заказала 39 размер на мой обычный 38 и это идеально! Доставка заняла около 3 недель в Канаду. Спасибо!


By we_nell
2015-08-05 12:14:02
Kjøpte disse skoene i håp om at jeg skulle klare og danse hele natten i et bryllup jeg var invitert til, og d gjorde jeg så absolutt.
Gikk i dem i 2 dager hjemme med sokker i, og etter det passet de perfekt.
Har aldri hatt så gode sko.
Superfornøyd. :-)

By nancyj.kinney
2015-07-31 21:57:32
By ozlemkuscu
2015-05-17 12:40:38
Normally I don't buy shoes from internet, just wanted to try because of the competitive pricing and pretty happy with my purchase, thanks jjhouse !!! Will buy again soon :)))

By kaz-jaz
2015-01-03 07:44:48
FEATURED REVIEW
Lovely shoes - ( blue ones on photo) Have already been dancing in them. Very good quality for such a bargain price. Shipping was very fast too - quicker than was stated when I placed my order. Email communication was also excellent and had all my enquiries answered promptly. Thanks very much - will definitely shop here again.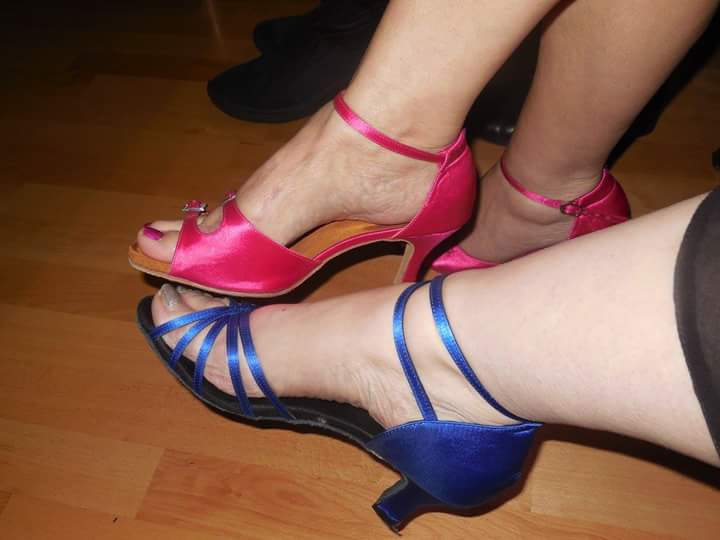 By rebel250pinklady
2013-10-29 05:45:10
FEATURED REVIEW
Je suis très satisfaite de mon achat (053007246). . Les chaussures sont très belles. Le seul petit inconvénient, je dirais, c'est lorsque ma commande est arrivée, j'ai eu des frais de douane à payer. Il serait peut-être utile pour les autres acheteurs de le mentionner sur votre site. Merci !!

By Chelsea Russell
2013-07-17 11:37:18
FEATURED REVIEW
I have really strange shaped feet. Ridiculously small and wide with some not so pretty toes. Shoe shopping is not normally a fun activity. I came to JJ s House after reading reviews that for the best comfort I should buy dance shoes. I wish I would have found this site for my wedding.

I purchased the Leatherette Heels Sandals Latin Ballroom Dance Shoes (053007246) as they looked comfortable and were the correct color. I measured my feet and they were a tinch to small for the normal measuring scale so I bought their smallest size – 34. Normally I can wear a size 5 if there is an ankle strap. I ordered the fastest shipping option because the shoes were so inexpensive that it didn't matter –I would have to paid more just purchasing formal shoes at any big box store. I ordered on a Friday night and they were delivered on Wednesday morning.

The shoes fit well and are very light. In the picture you can see some golf flecks – this is actually on the shoe as glued on gold stars, I could have done without that. The strap was not l what I was used to…I almost thought they were broken. They are not, it must add to the comfort – I attached a picture of how they work.