Customer Reviews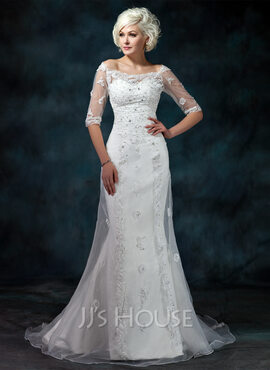 Trumpet/Mermaid Off-the-Shoulder Court Train Satin Organza Wedding Dress With Beading Appliques Lace
#002012573
List Price: US$ 308.00 Save US$ 118.01
By Lisa
2015-10-18 18:33:55
By suzannejoysneddon1960
2016-06-09 11:50:10
Hi I have received this beautiful dress today I am a very small size 6 and although the dress is very long (I ordered the standard size 6) it fits like a glove. Stunning detail and absolutely amazing for the price. Thank you JJs House.
By jdeborah30
2016-04-17 13:45:09
I rate the dress a100% wonderful it fit very good I LOVE the Beading
By Ashley-24
2015-06-11 03:47:06
Many thanks to JJshouse!

I really like this dress, and the details of it are perfect. It's exactly as pictured. Besides, the price of this dress is very reasonable. I will definitely introduce it to anyone who is looking for affordable, good looking, high quality product!

By cheb72
2015-05-11 19:37:37
This dress is breathtaking and a PERFCT fit for my daughter!It's very well made. Was shipped quickly and packed beautifully.Thank you so much!!!!!
By ruchie
2014-10-07 09:42:26
lovely dress!! love the sleeves and neckline most!
By mani
2014-08-26 08:03:59
Das Kleid wurde schön genäht und genau nach meinen Angaben zugeschnitten. Einzig die Aermel sowie der Achselausschnitt waren zu eng.
Natürlich musste ich es von einer Schneiderin nochmals anpassen lassen, damit es wirklich gut gesessen hat. Es war zum Glück genügend Stoff eingenäht, sodass die Arme noch ausgelassen werden konnten.
Mit Aenderungen habe ich aber im voraus bereits gerechnet. Gerade bei einem so taillierten und doch eher engen Kleid ist es schwierig genau zu schneidern, ohne dass mehrmals probiert werden kann.
Die Lieferung hat auch bestens geklappt.
Das Preis-/Leistungsverhältnis hat für mich gepasst und ich werde sicherlich wieder einmal bei JJ's bestellen.
Reply by JJsHouse 2014-09-02 04:10:55
Showing 1 - 7 of 7 Items
1